Our Foundational DEI Course
Most diversity training programs are created for compliance, not for transformation. Diversity: Beyond the Checkbox is different. 
We don't stop at what diversity is or why it's the right thing to do for people. Instead, we delve into specifics on achieving the business results that organizations seek. This course will guide you through effective communication and respectful interaction with employees, clients, and customers in our ever evolving and diverse world and provide you with a strong foundation for your future DEI efforts.
Accredited Curriculum
Our curriculum was created by a team of Certified Diversity Executives after more than 1,000 hours of research on diversity, equity, and inclusion topics. Continuing Education Unit (CEU) credits are available for this course.
Take the Course
enroll to earn continuing education units
We're proud to be an Institute for Diversity Certification (IDC) Preferred Recertification Provider. Certified Diversity Professional (CDP)® and Certified Diversity Executive (CDE)® designees can earn recertification credits by taking this course.
Learn More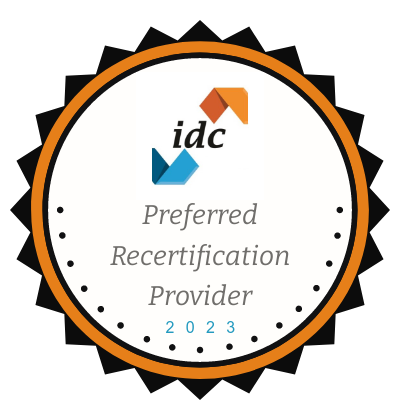 Format
online & self-guided
Continuing Education Credits
0.5
What topics will we cover?
Understanding Diversity

The concept of diversity encompasses understanding, acceptance, and respect. Beyond the typical focus on race and gender, diversity is a kaleidoscope of backgrounds, perspectives, abilities, and experiences, as well as the exploration of these differences.

The Business Case for DEI

Fully integrating DEI into your company culture is proven to drive business outcomes. This includes understanding trends that ensure sustainable growth, achieving higher profits and retention rates, and fostering more innovation and creativity.

Unconscious Bias-The Secret Disruptor

For your company's DEI initiatives to succeed, you must actively counteract unconscious bias. Unconscious bias decreases innovation, productivity, and creativity. Our proposed strategies offset biases so employees can confidently engage in their work.

Implementing a Diversity and Inclusion Program

Now that we understand the business case for diversity, how do we fully integrate diversity into our organizations? Review common mistakes in diversity programs and explore methods to implement these initiatives successfully.

Business Communication in a Diverse World

Learn how to make DEI a part of your brand strategy. Increase your overall awareness and sensitivity, broadening your marketing reach, and avoid handling missteps under pressure.
who should take this course?
Directors and managers who are in charge of DEI initiatives

Business owners, corporate executives, managers, directors, department leaders, customer service managers, and team leaders

Store managers, salespeople, or any other professionals who interact directly with members of the public or engage with representatives from other organizations on a regular basis

Anyone whose professional responsibilities deal specifically with diversity and inclusion
This diversity course delivers impactful content that uncovers the value of diversity and inclusion for all organizations. I've taken several D&I courses and training in the past, but this course still managed to surprise me with not only new and useful information, but also a delightfully unexpected multimedia experience.

Won J You

Design Leader and Educator, WJY Studios
Diversity: Beyond the Checkbox takes what is a highly topical and critical subject and breaks it down in such a way that it is so easily consumed online. The course really helps to understand the full meaning and implications of embracing diversity - from everyone's perspective. It also helps you to understand how to make it come alive and how it connects to bottom line performance of the business. I highly recommend this course.

John Murphy

International Executive Leadership Coach, John Murphy International
Diversity: Beyond the Checkbox offers a fresh and approachable course on Diversity & Inclusion. It is clear that the team really cares about the issue, and numerous videos and spotlights on different people and their experiences make it personal. Information is presented succinctly and is easy to grasp and absorb. I came away knowing – and understanding -- more than I did in the beginning. All around, I would highly recommend this course!

Susanne Meyer

Employment Solutions Architect, LCI Tech
As an educator and social justice advocate, I believe that it is everyone's role to ensure a more equitable and just world for everyone. ""Diversity: Beyond the Checkbox"" provides an accessible array of tools for anyone to use to promote diversity and inclusion not only at work, but in their personal lives as well. I think that anyone who takes part in this course will not only walk away more knowledgeable about diversity and inclusion, but also more confident in promoting diversity and inclusion.

Bri Hart

Assistant Director, Women in Science and Engineering (WISE), NC State University
Before taking this course, I was not aware of the pros and cons of diversity in the workplace. This course laid out and explained Diversity and Inclusion in an engaging manner. The teachers knew what they were discussing and shared their own sense of diversity. I was surprised by how well the course taught technical terms and historic laws related to diversity in an engaging manner. This course was well produced and fun to take while being very informational. As a member of Gen Z, I'll be entering the workforce fairly soon. Courses like these are very important for all workers because of how diverse Gen Z is.

Johnny Smith

Marketing Intern, Walk West
I just completed the Diversity: Beyond the Checkbox course and wanted to say thank you for the opportunity to learn more about diversity, equity, and inclusion. There were some very eye-opening statistics throughout and I really enjoyed the marketing component. As a Director, this is a great resource as we move our journey forward with enhanced diversity.

Megan Pickard

Director, BAYADA
I just got off an employee relations call, and I had to reach out to tell you how the call started. The employee said the issue happened right after she finished "the best diversity training I've ever taken in my entire life"! She was referencing the Diversity: Beyond the Checkbox course in BAYADA University, she said it was fantastic and inspiring

Keri Huneycutt

HR Manager, Care Center, BAYADA Home Health Care
Become a leader in diversity, equity, and inclusion, and set yourself apart in your industry. Whether you're just entering the workforce or you're an experienced professional, companies need people who understand how to support the evolving global workforce.
This package includes:
1 login to the course
Ongoing access to the course materials
6-month free membership to TDM Library
Enterprise
Contact Us for Pricing
Transform your business by providing course access to your entire organization to build an inclusive, authentic, and sustainable culture. Create more positive working relationships, increase productivity within your team, and appeal to a broader client base with a robust diversity initiative.
This package includes:
Logins to the course as determined by the size of your organization
Unlimited access to the course materials