Connect faster to trusted, up-to-date DEI resources
We know budgets are under pressure. You don't have all the answers, and vetting DEI resources seems like a full-time job. We understand. 
Our experts created TDM Library, a one-stop-shop stocked with how-to guides, podcasts, articles, MicroVideos, webinars, white papers, and more than 700 Q&A. Smart DEI insights for $9.99 per month might sound too good to be true, but our team is committed to providing budget-friendly, up-to-date DEI knowledge for everyone. 
Get your library card today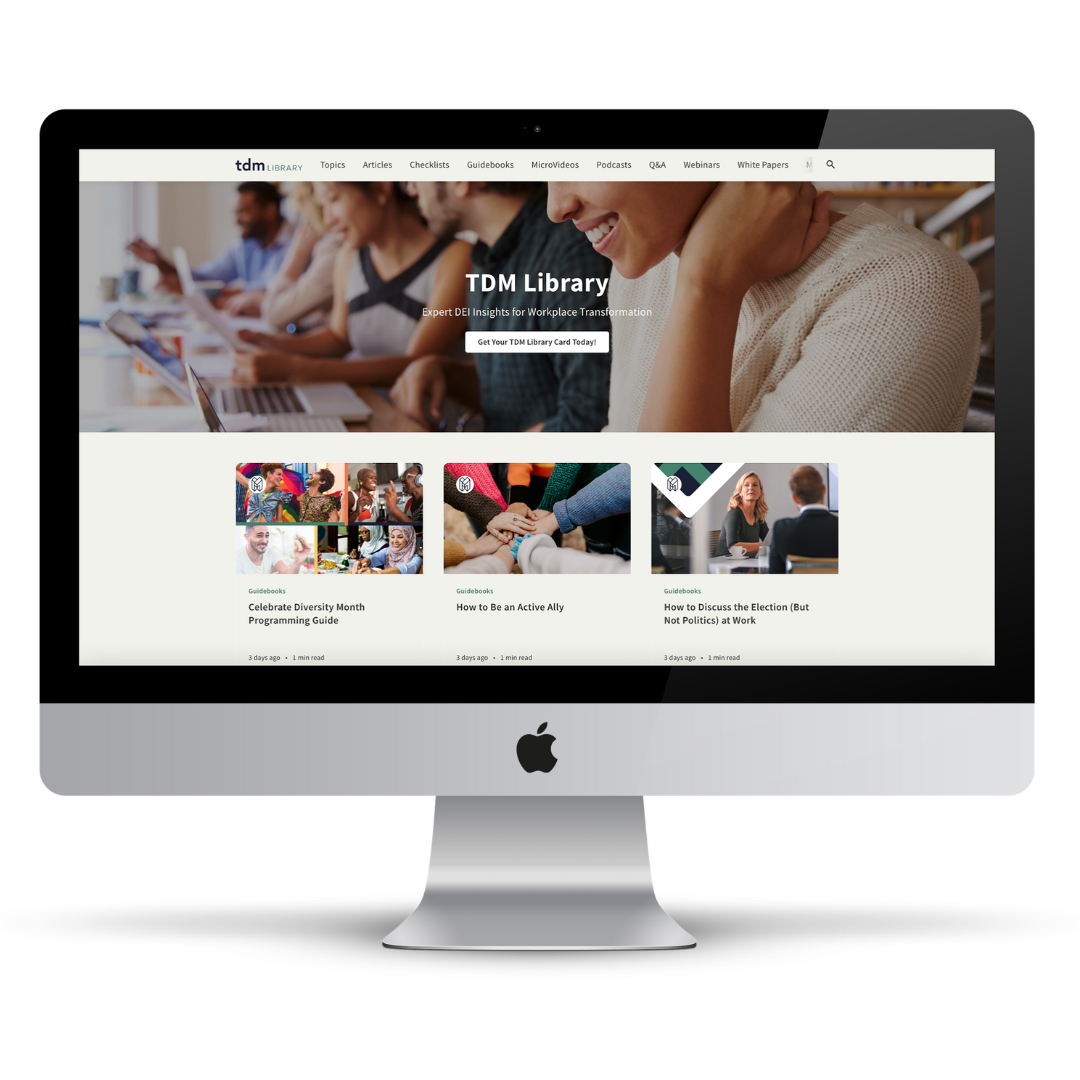 Access Expert Strategies for Dynamic DEI Transformation
Curated by Certified Diversity Executives, PhDs, award-winning educators, and business leaders, the resources in TDM Library don't stop at the basics. Our advanced collection dives deep into advanced topics, including inclusive leadership, the business case for DEI, talent acquisition, best practices for Employee Resource Groups, and C-suite engagement. 
Our experts make it easy to find, understand and apply the strategies you need to transform your workplace culture, expand your reach, and leverage the power of diverse teams.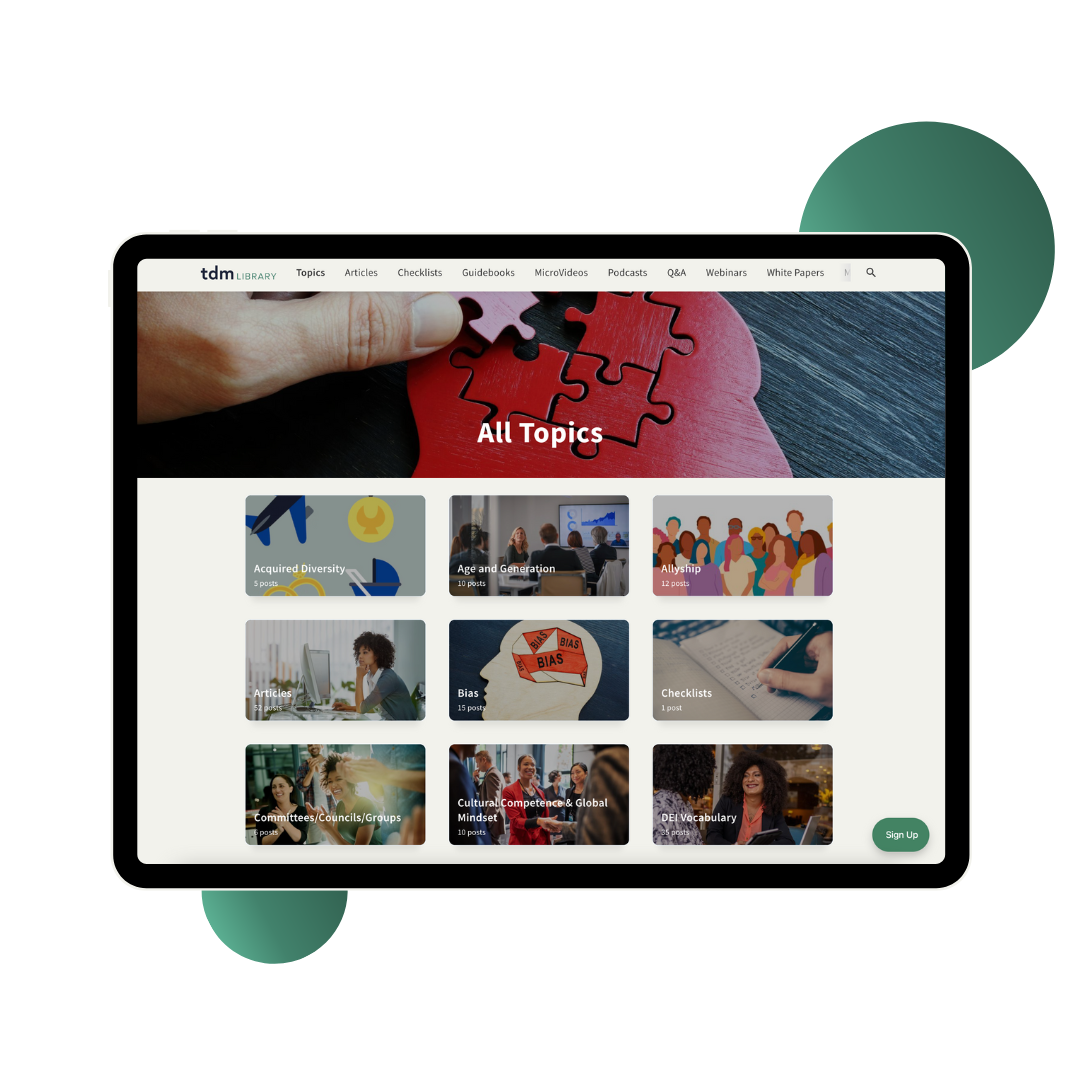 Search Across Our Entire Collection From Any Page
Whether you have questions about inclusive language, want to help your team leaders be more effective, or need a blueprint to build your DEI practice, TDM Library has you covered. 
You can find the answers to all your DEI questions within seconds. No more aimlessly scrolling. Whether you want to watch, listen, read, or skim, TDM Library has the resources you need, available at the click of a mouse.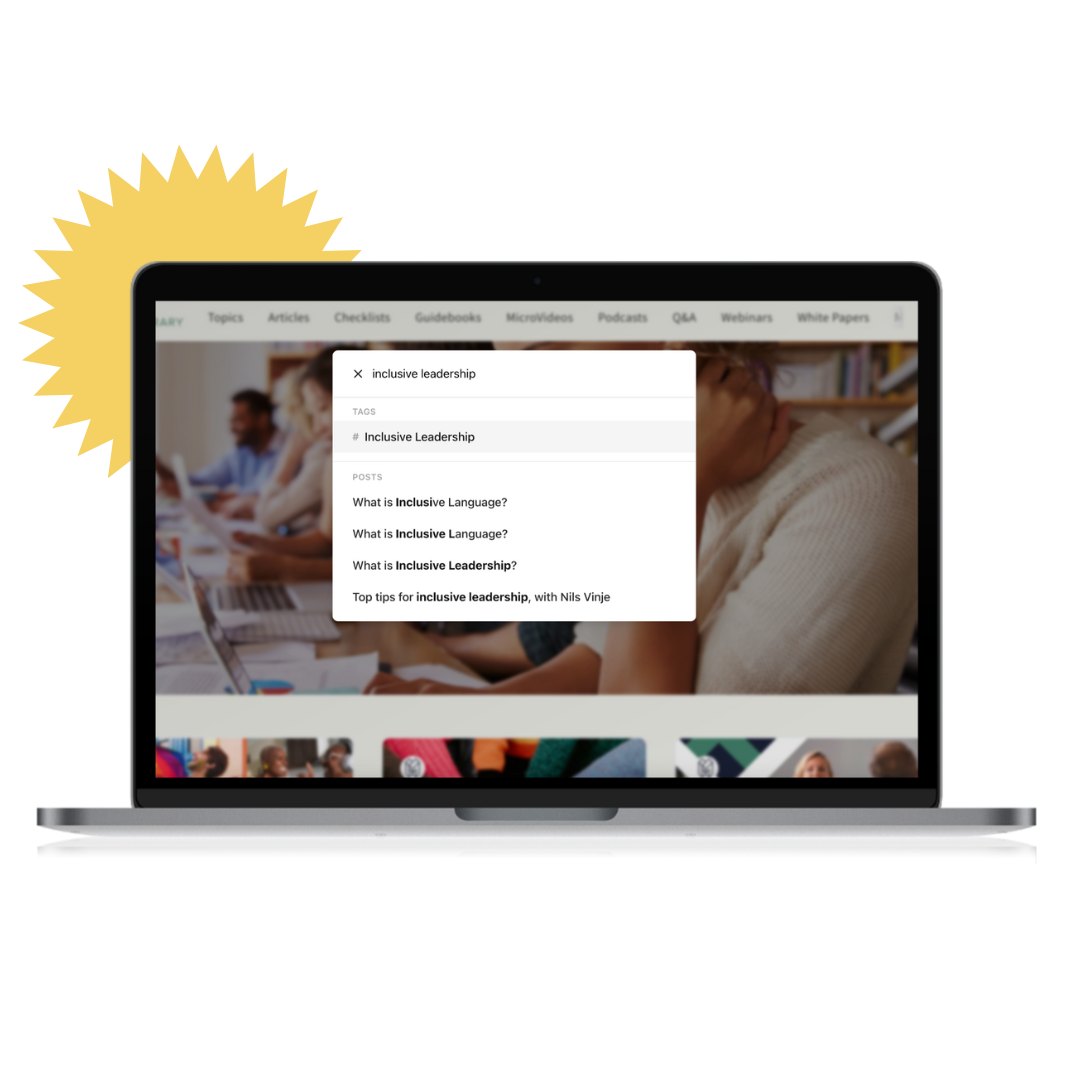 The Diversity Movement has been so valuable to me in my role as a DEI leader this past year. I share their online resources monthly with my team and have really enjoyed their webinars.

Fatou Njie-Jallow

Director of Diversity, Equity and Inclusion, The New England Center for Children, Inc.
There's not a one-size-fits-all blueprint for a client. TDM provides a great wealth of resources for organizations, and we have benefited from that. And I believe others would as well.

Rekha Daniel-Kimani

Division Director, Total Rewards, Compensation, Benefits & Well-Being; Diversity, Equity & Inclusion
We love The Diversity Movement--we are always recommending them to others and their resources are so valuable.

Kenrica Sands

Sr. DEI Program Coordinator, Pendo
Their (TDM's) resources and ready guidance are second to none in the area.

Melissa Short

VP of HR, Transitions LifeCare
Monthly Subscription
$9.99/month
Get your first 14 days free when you subscribe today.
This package includes:
700+ DEI Q&A
Hundreds of articles, guidebooks, and white papers
All 8 seasons of the top-rated podcast Diversity: Beyond the Checkbox
36+ professional development webinars
30+ MicroVideos and free 14-day trial of the full MicroVideos platform
Annual Subscription
$119.88 $99/year
Get your first 14 days free when you subscribe today.
This package includes:
700+ DEI Q&A
Hundreds of articles, guidebooks, and white papers
All 8 seasons of the top-rated podcast Diversity: Beyond the Checkbox
36+ professional development webinars
30+ MicroVideos and free 14-day trial of the full MicroVideos platform