Forward-thinking organizations are moving quickly to hire and integrate DEI leaders. In fact, as a share of all job postings, diversity positions rose 18% in 2018, 30% in 2019, and a whopping 123% in 2020. Yet most of these roles are new to the organization, and many of the leaders stepping into them have only a little or no experience in leading a strategy-based, data-driven DEI program.
So many DEI programs fail — and when they do, their failure takes a heavy toll on productivity, culture, and morale. How do you guard against common pitfalls to kickstart and sustain real transformation instead? This course will show you how.
Designed by a team of PhDs, Certified Diversity Executives, and DEI experts, this course provides a clear and proven roadmap to success, so you can manage organization-wide change efficiently and effectively.
Take the Course
Format
online & self-guided
Continuing Education Credits
0.5
who it's for
This course is intended for DEI practitioners at all levels who are looking to create, measure, and sustain successful diversity, equity, and inclusion practices for their organization and those who lead diversity, equity, and inclusion as an organization-wide function. It is also helpful for senior executives responsible for hiring for DEI roles to understand how to recruit for and support this important role.
what you'll learn
By the end of this course, you will learn: 
Best practices for hiring, positioning, and bolstering a DEI leader… and how to build a diverse talent pipeline
How to make the business case for an organization-wide DEI focus… and obtain continued support for inclusion as a strategic imperative
The core pillars of strategy design, change management, and business communication… so you can build toward long-term change with quick-wins along the way
Personal stories from DEI experts… to help you avoid common missteps in communication, strategy, and implementation
The best way to structure your Practitioner's Toolkit… so you can build resilience, remain compassionate, and guard against burnout
enroll to earn continuing education units
We're proud to be an Institute for Diversity Certification (IDC) Preferred Recertification Provider. Certified Diversity Professional (CDP)® and Certified Diversity Executive (CDE)® designees can earn recertification credits by taking this course.
Learn More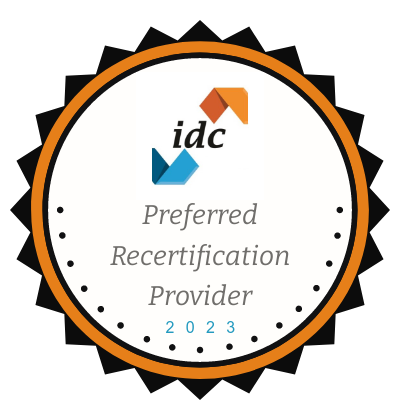 The most comprehensive and meticulously thought out DEI course ever. Realistic, business-oriented, innovative, and highly positive approach to DEI programs implementation is exactly what young DEI leaders need to become more self-confident in their own success. The material is easily navigable, accessible to all types of learners, and downloadable. Highly recommend this unique and professional course.

Ekaterina Manannikova (she/her)

Diversity, Equity, and Inclusion Officer, Capital Legal Services
I am new in my role as a DEI Practitioner. I have some base knowledge and primarily self taught. This course was encouraging because I could see my own skills sets and how they paired well with the skills sets needed for a good DEI practitioner. Also I was able to see clearly where my organization is on their DEI journey. This course also was helpful with making the priority to create a strategic plan for our organization.

Renee Otiende

Training & Diversity Business Partner, Texans Credit Union
As a more seasoned practitioner, this was a great refresher course.  For anyone beginning in the field, this course synthesizes the steps and provides a great foundation for a DEI strategy and program.

Jeannette Robles

AVP, CSR & DEI
This course is a great resource for every DEI leader, providing a roadmap of helpful tools and resources to build a sustainable DEI program.

Brenda Clegg

Business Development & Community Liaison, BelFlex Staffing Network
Become a leader in diversity, equity, and inclusion, and set yourself apart in your industry. Whether you're just entering the DEI space or are an experienced leader, equip yourself to successfully manage and motivate sustainable culture change throughout your organization.
This package includes:
1 login to the course
Ongoing access to the course materials
6-month free membership to TDM Library
Enterprise
Contact Us for Pricing
Equip leaders, practitioners, and human resources professionals alike to drive sustainable culture change throughout your organization through our roadmap for making the business case for DEI, gaining buy-in, designing strategy, and avoiding pitfalls in implementation.
This package includes:
Logins to the course as determined by the needs of your organization
Unlimited access to the course materials