Placing the right talent in the right roles in the right system is a recipe for high-performance in both business and sports arenas. In partnership with The Sports Shop, The Diversity Movement is highlighting sports teams that draw on Diversity and Inclusion (D&I) as an ingredient to achieve excellence. This month, we turn our attention to the NBA given its leading role in implementing D&I practices. To find our winning team, we needed a way to define team diversity and used the number of international players on a team as an indicator. We selected teams that have 5 or more international players on their current rosters to demonstrate the impact of D&I on play (e.g., different culture, style of play).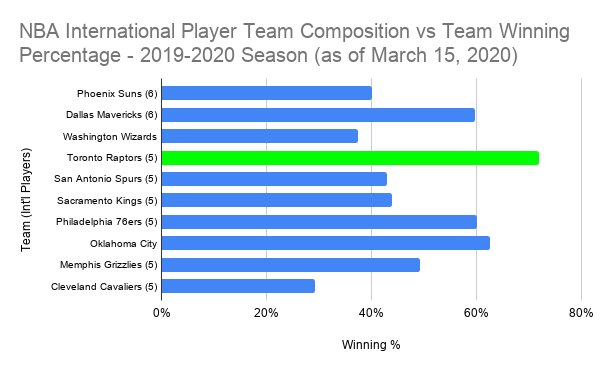 We discovered that the presence of international players alone had a very slight negative impact on team performance. Success requires inclusive practices and a supportive front office. Businesses see the same thing – getting the most out of a diverse workforce requires a focus on inclusivity. After crunching the data, the Toronto Raptors came out on top. Picking the reigning 2019 champions seems like an easy choice. As we looked deeper, we discovered that the Raptors have a holistic approach to D&I.
President of Basketball Operations, Masai Ujiri, is a former player and is of Nigerian descent

2019 NBA Champion Toronto Raptors received the league's first-ever NBA Team of the Year Award.  The Raptors were recognized for their achievements across team business, including Ticketing, Partnerships, Marketing, Digital Media, Business Analytics and Innovation

Innovative programming including efforts to drive community conversations around diversity and inclusion through initiatives like the "GroundbreakHERS," a professional development network supporting females in sports and partnership with Nike to release a

officially-licensed hijab for Muslim women
Toronto has set the bar for creativity and innovation with D&I in mind. This is the same mindset that birthed The Diversity Movement by Walk West and our Diversity: Beyond The Checkbox course. As a member of The Sports Shop community, we invite you to join us and become a trendsetter in the practice of D&I.
The Diversity and Inclusion for Sports Excellence series is done in collaboration with The Sports Shop, a member of the Buzz Sports Radio network in Raleigh, North Carolina.