The benefits of mentoring are clear, so why leave these relationships to chance? Organizations with structured, intentional mentoring programs create better workplaces and happier employees. Plus, businesses benefit when experienced workers pass on their institutional knowledge to junior staff. 
Among the best places for professional mentoring are multigenerational workplaces, which might include baby boomers, Gen Xers, millennials, and folks from Gen Z. Business leaders can promote the cross-generational transfer of knowledge and skills through intentional and structured mentoring programs, and by implementing best practices for inclusion, like employee resource groups. 
Mentoring improves employee morale, boosts workplace retention, and creates a leadership pipeline. Younger staff need the guidance and training that older colleagues can provide, while mentoring also helps senior workers gain new insights and improve their communication skills. 
But without an established framework, employees might be reluctant to put in the time and effort needed for effective cross-generational learning and professional development. This highly valuable exchange of knowledge can also be derailed by communication differences, staff turnover, and busy schedules. However, by making mentorship a priority and integrating it in the flow of work, it is possible to encourage older or more experienced workers to pass on their knowledge to younger or newer employees.
Labor shortages and workforce development
Nearly every industry has been affected by the tight labor market, which has business leaders scrambling to find and retain enough skilled employees to maintain operations. People working in chronically understaffed workplaces are often overworked, overwhelmed, and have little time to devote to training. In particular, labor shortages in the nursing and construction industries have made cross-generational mentoring and training difficult.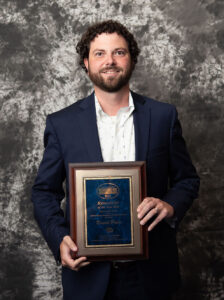 Workforce development is the top issue in the construction industry right now, says David Price, owner of David Price Construction, Inc. and president of the Home Builders Association of Raleigh-Wake County. In fact, there are more than 400,000 unfilled construction jobs nationwide, he says, and by the end of 2023, that deficit could grow to a million. The industry was also hit hard by the pandemic and the Great Resignation, with an average of 197,250 people a month quitting their jobs in the last four months of 2021. Plus, the construction workforce is aging, with the median age of industry professionals around 41. 
"We really need skilled workers almost as much as we need people to run the project, if not more," Price says. "To say that the industry is banging its head against the wall to try to figure out this issue would be an understatement."
Since the pandemic, similar staffing challenges have hit the healthcare industry and nursing in particular. In an August 2021 survey from the American Organization for Nursing Leadership, 47% of nurse leaders identified staff retention, furloughs, and layoffs as top challenges. According to a 2022 report by McKinsey and Company, the U.S. may experience a nursing shortage of between 200,000 and 450,000 registered nurses by 2025.
No matter the industry, today's business leaders have to approach staffing with a holistic approach. It's not enough to attract new workers; they must also retain current employees. One way to do this is by encouraging mentoring, which can decrease turnover, foster inclusion, and promote work engagement. It might seem counterintuitive to ask overburdened staff to take on another task, but professional mentoring pays off in happier, less mobile workers.
Making mentoring and support a priority for nurses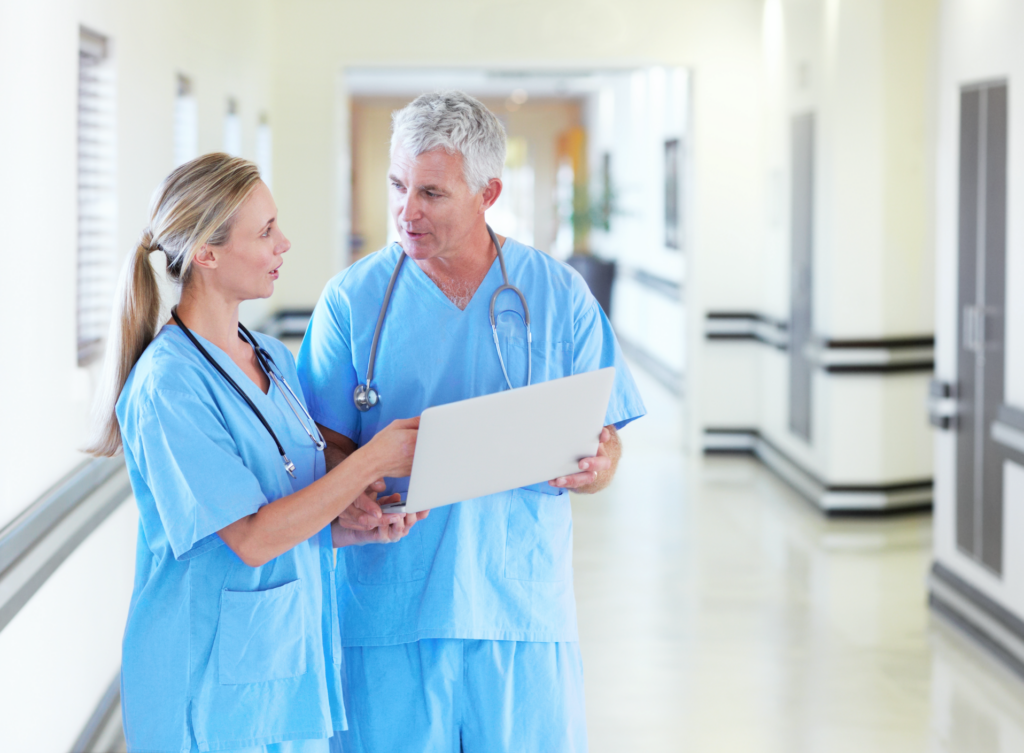 15 years ago, at WakeMed Health & Hospitals in Raleigh, North Carolina, the Division of Nursing established a structured mentoring program, called Guide to Professional Success (GPS). While informal mentoring had been happening previously, staff recognized that these relationships supported retention and workplace engagement so decided to make the program more robust.
"We felt like we needed to really put forth more effort in having a structured program that provided accountability and guidance," says Harriet Stephenson, Director of Nursing Education at WakeMed Health & Hospitals.
"We put a process in place that would be a very formalized program, and our chief nursing officer was very instrumental in setting the expectation that every unit follow this process," she says. "The benefits of staff support and the benefits of what a mentor can provide for new hires were just hands down a value for everybody."
As part of the hospital's structured orientation program for nurses, new hires are assigned a preceptor, who monitors the nurse's technical skills, and matched with a mentor, who helps with other aspects of professional development. Mentees typically meet with mentors once a month for six months to a year after their hire date. Mentor coordinators in each hospital unit advise mentors, make matches, and follow up to ensure meetings are taking place and the relationships are working. 
Experience, not age, guides who is matched with whom. This is a best practice for any organization-sponsored mentorship program, as it capitalizes on participants' diverse expertise. At WakeMed, younger mentors might be enlisted to guide less-experienced, older nurses, or the mentor and mentee might be close in age. 
"Within nursing, you've got people coming in – second or third career – at different ages. They typically come from other experiences, so what they can bring to the table is beneficial for everybody," says Stephenson. "They can almost mentor each other."
Mentors are all volunteers, but participants are rewarded with professional incentives.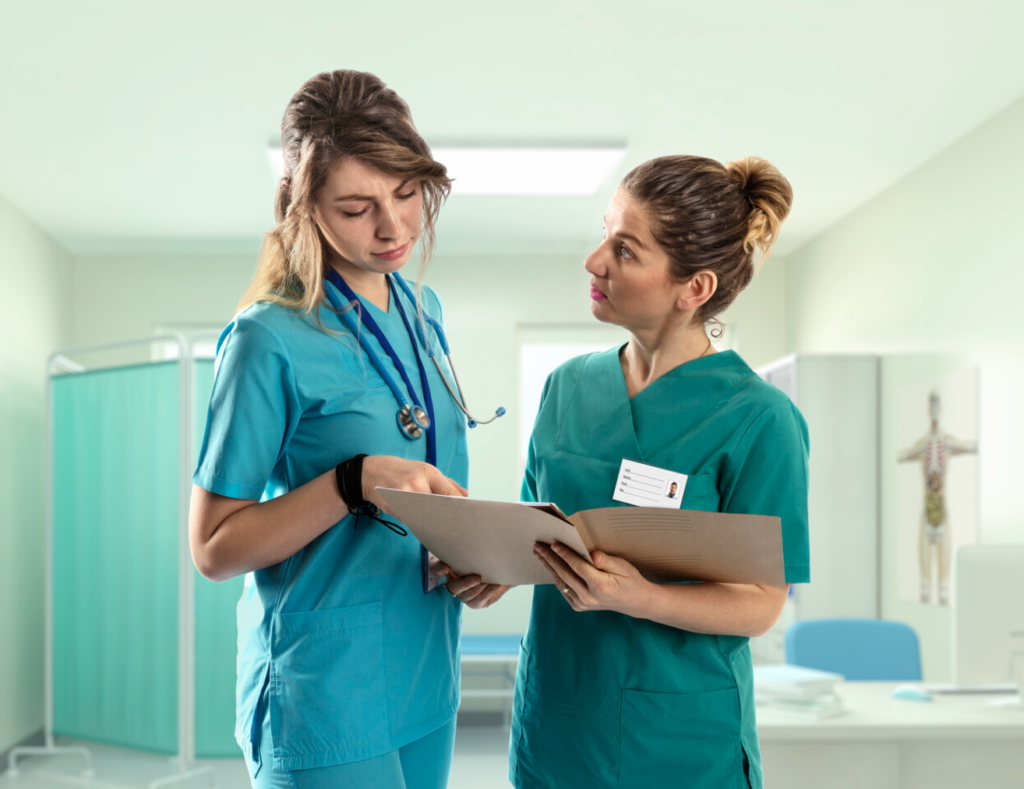 "We have a professional ladder that awards points for different activities that are over and beyond your job, but support your department and support the Division of Nursing. If you're a mentor, it helps you in this professional ladder and can increase your pay," Stephenson says. "But we found a lot of people are mentors because that's their passion, and they want to help support new staff." 
However, she says staffing shortages in the nursing industry as a whole have made it challenging to keep enough skilled nursing mentors in the pipeline.
"That would probably be our biggest challenge with staffing, having enough staff to be in the role of the mentor across the system," Stephenson says. "Participation is not a requirement, but it is an expectation, because we know that mentoring is going to help support retention." 
The benefits of cross-generational mentoring
Carrie Fraser, a registered nurse at WakeMed, has been a nurse for 19 years and a mentor for 15. She was one of the first nurses to be trained as a mentor in WakeMed's GPS program. 
"Because I'm older, a lot of times the younger nurses will look up to me. They look to me for guidance and comfort and 'Am I doing this right?' They just want that reassurance, so as an older nurse now, I'm able to provide that to them," she says. "Even 15 years ago, I still had a good bit of experience under my belt, so I was able to help guide and comfort and push them in the right direction." 
Fraser emphasizes that mentors are not managers. While supervisors focus on job standards and performance issues, mentors concentrate on professional development and personal support. It's also key that mentors are passionate about nursing and committed to passing on their expertise.
"As a mentor, I'm fostering their relationships," she says. "I'm trying to grow them as an individual, as a nurse. I want them to be successful in the department, which I think a supervisor does too, but they don't have that closeness that a mentor and a mentee have. We become friends, not only at work but outside of work too."
Fraser encourages the newer nurses to join committees, take different classes, pursue other certifications, or get involved with a national nursing organization. These extracurricular activities might not occur to the mentee, so Fraser makes sure to stress that these other opportunities can lead to growth. 
"I'm constantly telling them other things that are available," she says. "This is how you're going to meet people. This is how you're going to be able to advance down the road and move into different avenues, if that's a passion for you."
These cross-generational relationships also help the senior nurses, keeping them fresh and passionate about their work. On a personal note, Fraser went back to school recently, and she says her mentees helped her with her school papers and gave her advice on how to be a student again. 
As well as being a mentor herself, Fraser is the mentor coordinator for the Surgical Trauma Intensive Care Unit. While there has been some turnover, she says nurses on her unit aren't leaving because of job dissatisfaction. Rather, they are moving on to pursue education or other career growth opportunities – the kind of turnover employers want to promote. 
"We have done a phenomenal job maintaining our staff in the Surgical Trauma ICU through COVID. We've done great," Fraser says. "We have a strong department, we have good relations, and we all look at each other like we're family, so maybe that's why. We really do have a fantastic relationship with everybody." 
Leveraging teams to encourage mentoring in the construction industry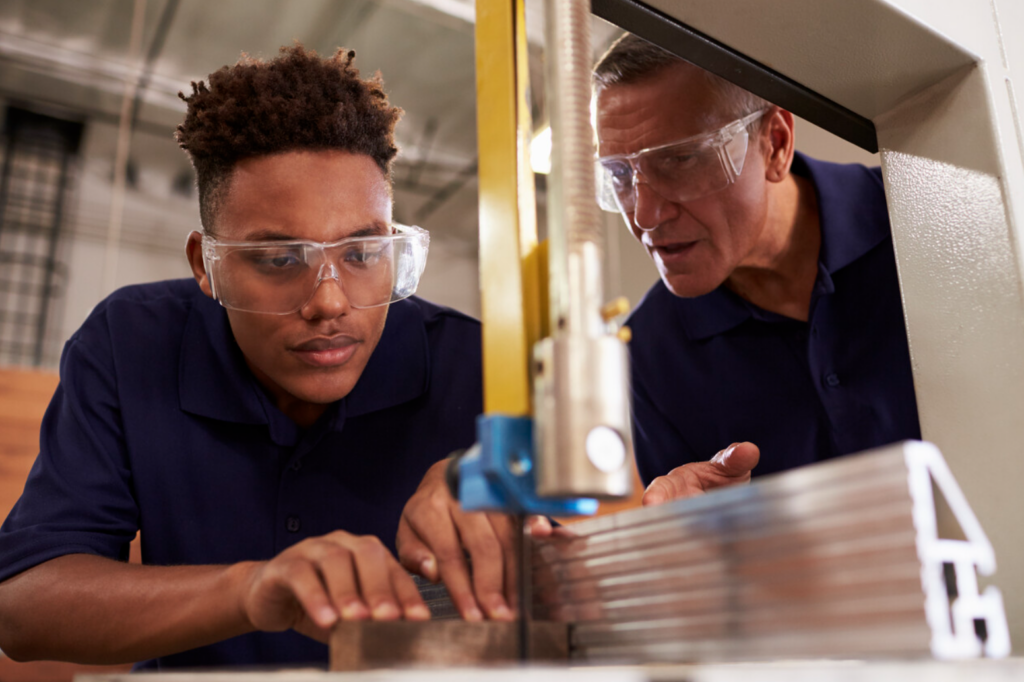 The high demand for skilled workers makes mentoring and training challenging in the construction industry too, Price says. Skilled tradespeople will often go to the highest-paying job, leading to high turnover. Plus, those who are on the job site have little time to devote to mentoring. 
"You have guys that you're paying $40 an hour as a carpenter. They need to be working those 40 hours a week, for you to be able to make a profit on a job. Pulling them away to train someone is potentially detrimental to your profit margins," he says.
Price adds that folks in the building trades tend to be introverted and task-oriented. "Those guys like to just go out there, focus straight ahead on what they have in front of them and don't necessarily always want to try and train somebody. Finding somebody who has the patience to do that is difficult," he says.
Companies can use incentives or bonuses to encourage training outside of the 40-hour week, but time and money constraints make that solution impractical. Price prefers to encourage experienced workers to pass on their knowledge by pairing them with someone less experienced on the job site. Putting people on diverse teams can be a great way to encourage the exchange of knowledge and foster a mentoring relationship. 
"Your carpenters and things like that are introverted by nature, so it's difficult for them to come out of their shell to share with somebody else," Price says. "The way it works best is when you're working as a team on a project. It's up to the mentee in a lot of cases, on their own initiative, to follow what the mentor is doing, especially if they're not the type of person to teach you something."
Working closely with another person fosters relationships in an organic way, which is especially helpful for introverts. If you're working on a job together, you don't necessarily have to say anything because you're watching, emulating and doing instead. As long as people pay attention and commit to learning through observation, the knowledge can be passed on in a way that's comfortable for both parties.
"If you have a three-person team – a cut man and two guys nailing – some of that knowledge is passed through watching the cut guy make his cuts: how he measures and what he does. But if you're not watching that, if you're just playing on your phone while you're waiting for that board to come back to you, you're not doing anything to better yourself," Price says. "But if, while you're waiting, you're watching, you're learning, you're actively trying to become the cut guy, so you can be the $30-an-hour guy and not a $20-an-hour guy, then that's bettering yourself. 
"I always tell my guys, if you're not learning, you're not bettering yourself," he adds. Sometimes, learning is as simple as paying attention to the work happening around you.
Trade associations, employee resource groups, and other options for mentoring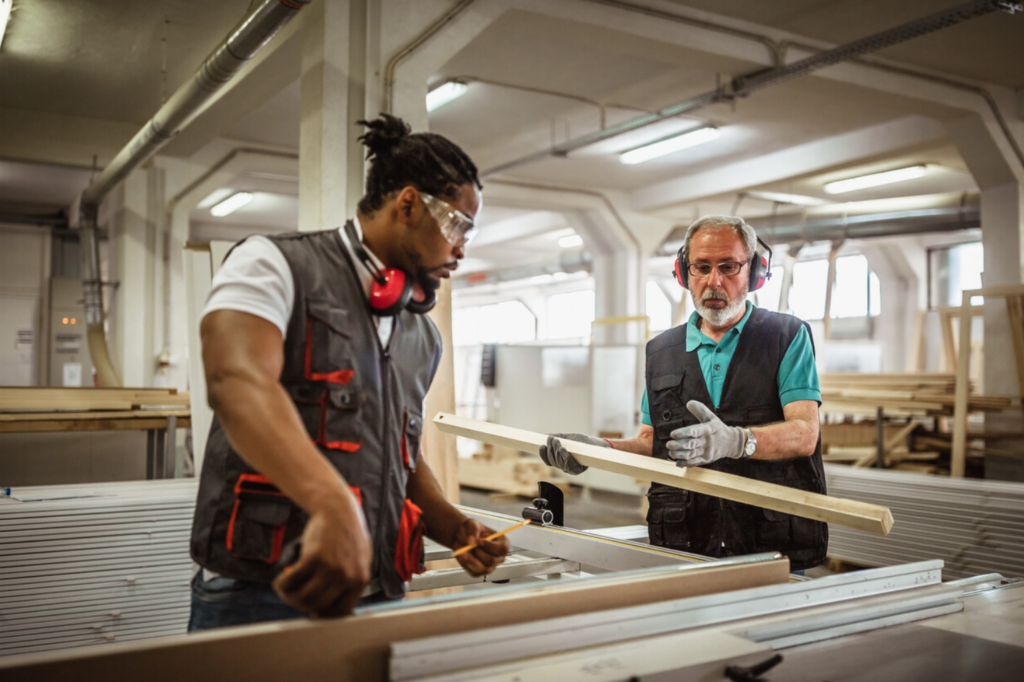 Professional groups and associations often sponsor mentoring programs, many geared toward entrepreneurs. At the moment, Price and the HBA-Wake leadership are working on a mentoring program for new business owners. When he was just starting out, Price was helped by a similar program through the Remodelers Council, and now he wants to share his own business knowledge. 
"One of our bigger initiatives is creating a committee that will help underrepresented companies in our industry – Hispanic-owned, Black-owned, even White-owned companies for that matter – that maybe are great at what they do, but not great at being a business," he says. 
Employee resource groups can be another source of professional mentoring. In particular, multigenerational employee resource groups increase employee engagement, foster relationships, promote professional development, and encourage the cross-generational transfer of knowledge through structured mentoring programs. Among the many companies that sponsor multigenerational ERGs are AT&T, Finra, and LinkedIn. If organizations don't already have a generational ERG, these are good programs to emulate. 
10 tips for a successful mentoring relationship
For mentoring to be most productive, both parties have to be willing to accept each other and work together toward a common goal. Along with that baseline assumption, here are more tips for a successful mentoring relationship.
Maintain regular contact. Set up consistent meeting times and commit to answering phone calls, emails, or texts in a timely manner.
Set expectations. Discuss what each partner expects from the other, and be prepared to be held accountable. 
Value each other as knowledgeable partners. It's not just a one-way transfer of skills and information; mentorship flows both ways.
Develop mutual trust and respect. People come from diverse backgrounds, so it's important to get to know each other on a personal level. 
Be honest. Often, an uncomfortable truth can lead to transformational growth, and withholding information only hurts both parties. 
Listen to both what is being said and how it is delivered. Ask questions when you don't understand, and really listen to the answers.
Offer support, not solutions. The mentor should be a guide and coach, but mentees need to solve their own problems.
Focus on the mentee's professional development. Alert them to professional organizations, continuing education, and leadership and networking opportunities.
Stay positive. Focus on progress, even when giving or receiving feedback.
Pay it forward. If you have benefited from a great mentor, consider being a mentor to someone else. Dedicated mentors can be successful at any age. 
Avoiding interpersonal pitfalls and other advice from mentors
Fraser says one of the first things she does as a mentor is to figure out how the other person learns and prefers to communicate. Mentees might be unsure how they communicate best, but by asking lots of questions, mentors can establish a foundation of trust. This process is key as miscommunication can undermine a successful mentor/mentee relationship, especially if the parties are from different generations. 
"I'll ask, 'Are you okay with me giving you constructive feedback? How does that make you feel?' That's also really important, because if I say something that's going to hurt their feelings, then we're not going to develop a relationship," Fraser says.
It's also vital, she says, to pay attention to nonverbal cues such as how the other person is sitting or behaving. Often, Fraser says she must ask outright how they are feeling: if they are anxious, angry, or scared. Mentors need to address any negative feelings immediately as mentees might be too afraid of giving offense to say anything.
"I will be very honest and say, 'You're not going to hurt my feelings. Please ask me. If I say something that you don't understand, or something that you feel was offensive, you need to let me know because I will do better.' I'm not perfect," she says.
If a problematic situation arises, Fraser says to check in with the mentee to see how they're doing, initiate a conversation, and ask questions. It's important to allow the other person to solve their own problems, but mentors can provide guidance and a perspective that comes from experience. 
"I want them to make sure that they know they can be open; they can be honest. I want them to be able to talk about their concerns and recognize their own growth, what they are striving to do," Fraser says.


Donald Thompson, CEO of the Diversity Movement and executive coach to C-suite leaders, says it's vital to set expectations at the beginning of any mentoring relationship. What does the mentee hope to gain, and how will that be achieved?
"How can you help someone in a significant way, if you don't know what they want? Once I know what someone wants, what their motivation is, then I can craft a communication style with them to be effective in coaching them," Thompson says.
"In order to achieve at a high level in any arena, there's going to be pain, sacrifice, and inconvenience," he says. "And people only go through pain, sacrifice, and inconvenience for something that they want."
No matter their age, employee mentors truly want to help their colleagues, so they're willing to invest time in coaching and put up with the inconvenience. At the same time, less experienced employees want to grow, keep learning, and progress in their career, so they're willing to have tough conversations and put in the extra effort. 
Many companies in diverse industries have leveraged these complementary goals by adopting multigenerational mentoring, including reverse mentoring, where younger workers coach senior employees on new technology. These intentional relationships have far-reaching benefits — beyond the two people involved. Mentoring is another way that business leaders can foster collaboration, encourage professional growth, and promote an inclusive and welcoming workplace. 
Amber Keister is a Content Writer and Editor at The Diversity Movement. She has spent more than 20 years as a journalist for publications throughout the South. Connect with her on Linkedin.