The right to vote is one of Americans' most cherished rights, but many citizens are denied that right because of cultural differences and language barriers. Asian Americans and Pacific Islanders are one of the fastest growing demographic groups in the U.S., yet many can't access basic election information.
In North Carolina, one nonprofit is working to bridge language barriers in pan-Asian communities across the state to ensure that more citizens have the ability to pick their representatives, choose how they are taxed, and decide how they are governed.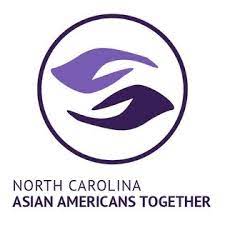 "We want to encourage our community to find their voice," ​​says Chavi Khanna Koneru, Executive Director and co-founder of North Carolina Asian Americans Together (NCAAT).
NCAAT works to build power in Asian American communities across the state through voter engagement, community outreach, youth leadership development, and nonpartisan civic education.
"We know that the Asian population has grown rapidly in the last two decades, but our political power, our social power, our ability to look out for our communities hasn't grown at the same rate," says Chavi, a lawyer specializing in civil and voting rights who grew up in Raleigh, North Carolina. 
In 2016, she and co-founder Ricky Leung worked with Asian Americans Advancing Justice to survey potential voters of Asian descent in North Carolina. They found that more than 70% of respondents had never been contacted about the election. To meet the need highlighted in that survey, the pair launched NCAAT, with the goal of increasing civic engagement in the state's pan-Asian community. 

Leading with language education
The nonprofit AAPI Data reports that 78% of Asian Americans in North Carolina speak a language other than English at home, and roughly 32% speak English less than "very well." At the national level, more than 10% of the adult Asian population who speak a non-English language at home said "language has been a barrier in voting in previous elections."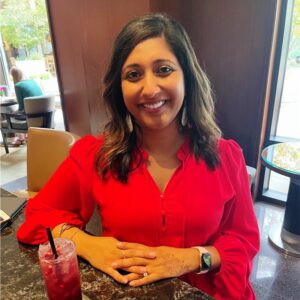 "The lack of language access is a huge barrier for the Asian American community," Chavi told eastwindezine.com earlier this year.  "This is true for other communities, but because of our diversity in languages, the barrier is higher for Asian Americans."
Roughly 40 languages and dialects are spoken by people in the state's pan-Asian community, and NCAAT provides translation services and nonpartisan election education in 13 of those languages.
"We want civic engagement to be easy," Chavi says. "Being able to reach out to someone in-language about where polls are should be part of everyday life."
Aren't citizens required to know English?
Most people applying to become a citizen must be able to read, write, and speak basic English. However, there is a large gap between the basic English skills required to become a citizen and the often complex language that many ballot initiatives are written in. Confusion about the various races is also common.
"For example, the state Supreme Court is on the ballot in 2022. And not a lot of people fully understand what the North Carolina Supreme Court does, how it differs from the U.S. Supreme Court, what the terms are, and what it means for the average person," Chavi says. 
NCAAT provides translated educational information about the judges, the school board, bond proposals, and more. The nonpartisan group also produces easy-to-understand infographics explaining the issues and comparing the candidates in a simple, accessible way. 
There is also the issue of cultural competency. In one of NCAAT's first efforts, bilingual volunteers knocked on doors in neighborhoods with a high concentration of Asian residents. Although many of these residents spoke English well, opening the door to find someone from their culture who greeted them appropriately and respectfully made a huge difference.
"Our canvassing efforts have been positive in a way that I've never experienced before in any other kind of voter outreach," Chavi says. "People don't slam the door in your face; they invite you in to eat dinner, because you're someone from the community."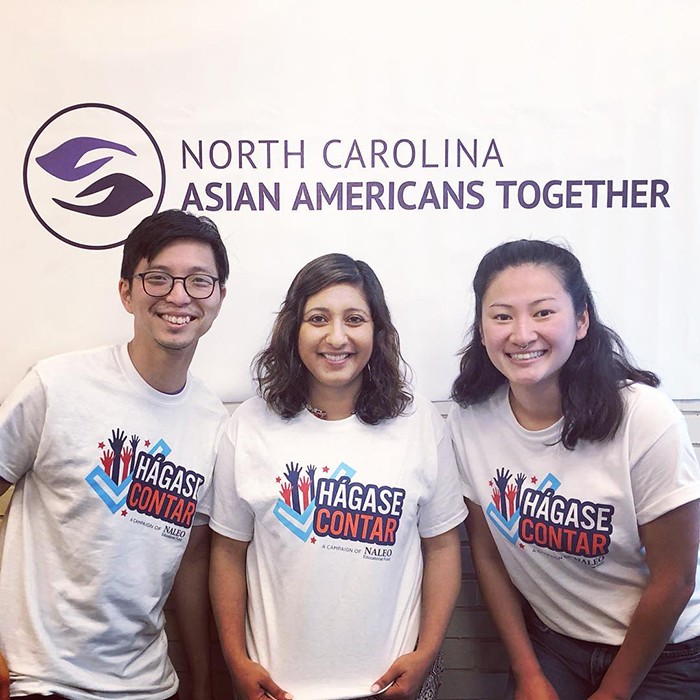 Making a measurable difference
In 2020, leading up to the general election, NCAAT volunteers registered eligible voters and distributed translated information about the various races and ballot measures. On election day, volunteers ran a multilingual phone bank that was linked to the North Carolina election protection hotline, answering questions and offering translation assistance. 
NCAAT's work contributed to record turnout of N.C. Asian American voters in the 2020 election, particularly among first-time voters who had registered prior to 2020. According to AAPI Data, the 2020 Asian American vote in North Carolina increased by 52%, or by 28,000 votes, compared to the 2016 election. 
"These are people who were registered for five or 10 years and had never voted in an election until 2020. This clearly shows that it's worth the effort to reach out to people and help them connect how voting can impact their lives," Chavi told the Asheville Citizen-Times in 2020.
Promoting civic equity in 2022 and beyond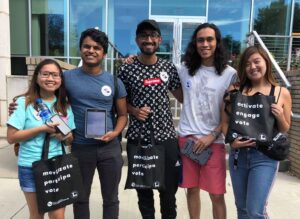 This year, multilingual NCAAT volunteers will staff the election protection hotline, answering questions about rejected ballots, provisional ballots, and providing translation. Chavi and her team will also visit polling stations, making sure poll workers understand that voters can bring someone with them into the booth.
"For this community, one of the most important rights is the ability to be able to take in a person of your choice, as long as it's not your employer, to help translate for you," she says.
The nonprofit's ongoing efforts include advocating for easy-to-use mail-in ballots, and working to get civic materials at the local government level translated into five major Asian languages – Mandarin, Hindi, Korean, Vietnamese, and Urdu. In particular, Chavi highlights the need for translated materials at school board meetings. And she emphasizes that Google Translate is not an adequate substitute for a human translator or materials translated by a native speaker. 
"Long term, one of our goals is to work with the state governments and local governments to increase language capability," she says. 
There is also a need for more awareness in the wider public of the many languages spoken by Asian Americans in North Carolina. The language gap prevents parents from interacting with their children's schools and teachers, and it prevents people from getting needed healthcare. 
"Some hospitals are able to provide interpreters, but 40 languages is difficult for anybody. I don't think it's a lack of effort; it's a lack of knowledge," Chavi says. "For example, they may have a Vietnamese interpreter, and maybe you speak a language that sounds close to Vietnamese, but it's actually a dialect. You won't understand what the interpreter is saying." 
Chavi invites people wishing to increase language equity – in state or local government, in schools, or in healthcare – to join NCAAT's mission to provide education and awareness. For more information, visit ncaatogether.org. 
The Diversity Movement (TDM) is committed to diversity, equity, and inclusion in the workplace, but we are also working for greater equity and inclusion in our diverse communities. We do that by highlighting great work by visionaries, activists, and thought leaders – and by partnering with people who want to create a more equitable society. If you'd like more information about working with us to transform your workplace culture, email info@thediversitymovement.com.

Amber Keister is a Content Writer and Editor at The Diversity Movement. She has spent more than 20 years as a journalist for publications throughout the South. Connect with her on Linkedin.