Restaurants, bars, bakeries, hotels, hair salons, event spaces, travel, and tourism all rely on one shared element: making the guest feel welcome and valued. And that means knowing how to be inclusive. 
Also, as two of the most diverse segments of the American economy, the service and hospitality industries have huge potential to model diversity, equity, and inclusion (DEI) as a business growth strategy. 
According to the 2020 State of the Restaurant Report, 47.8% of all restaurant employees come from marginalized racial groups, and women make up 54% of workers. Yet, executive roles in the service and hospitality sectors are almost exclusively reserved for White men. As Shannon Finn Connell writes for Forbes, "The industry views its diversity as an inherent strength that helps restaurants serve a diverse customer base. And while front-line diversity may in fact be a strength for food service, many feel there is a gap further up the ranks. In other words, restaurants have a diverse workforce, except at the top."
Creating an inclusive work environment will not only help you attract a bigger segment of the market, it will also help you attract more qualified workers and shift your employee demographics over time. With more outstanding employees in the leadership pipeline, your executive team has a greater chance of more accurately representing your community, your workforce, and your customers. And, you'll improve both performance and business outcomes along the way.
Practice Inclusion with Simple Language Swaps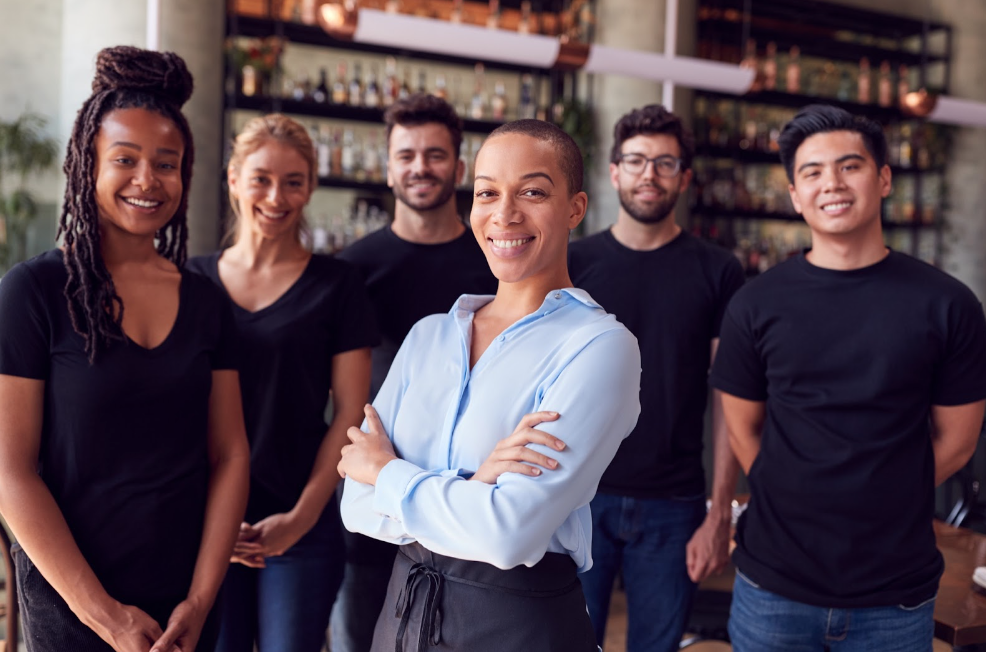 Using inclusive language is a great first step. It makes a huge difference to the people around you, and it's free and easy to learn. 
What is inclusive language? Inclusive language is the daily practice of intentionally working to choose the most respectful terms for people, their backgrounds, and their life experiences. As part of that conscious effort, it also means examining your current word choice habits and why they exist as they do. Maybe, like most of us, you simply picked up a few bad habits from your family and friends, like saying "handicapped parking" instead of "accessible parking." Maybe you just aren't aware of which terms have changed and evolved over the few years, like the reclaiming of "queer." 

Inclusive language also means avoiding terms that are intentionally – or inadvertently – exclusionary or offensive. You can begin using inclusive language at work by simply swapping some commonly used words and phrases with more inclusive language. Here are our six core guidelines for inclusive language: 
Put people first.

Focus on the person, not their characteristics. For example, instead of "a blind man," say "a person who is blind." Putting the word "person" or "people" first centers your language on the full individual, not just one dimension of who they are. Also, only mention characteristics like gender, sexual orientation, religion, racial group, or ability when relevant to the discussion.

Use universal phrases.

Idioms, industry jargon, and acronyms can exclude those who may not have specialized knowledge of a particular subject and can impede effective communication. Many idioms don't translate well from country to country, region to region, or generation to generation. Know your audience. For example, saying "That was a homerun!" could potentially turn your encouragement into a source of embarrassment if you are speaking to someone unfamiliar with baseball. Instead you might say, "Great job!"

Recognize the impact of mental health language.

"Bipolar," "PTSD," "OCD," and "ADD" are real mental health diagnoses. Using these terms to describe everyday behaviors underplays the impact of someone's experiences with a mental disorder. Also, avoid derogatory terms that stem from the context of mental health, like "schizo," "paranoid," or "psycho."

Use gender-free language.

For instance, instead of greeting a table with "good evening ladies" or "ladies and gentleman," simply say "hello everyone." Also, you should avoid assuming someone's gender – and possibly misgendering them – by refraining from calling guests "ma'am" and "sir." Instead, use universal words phrases like "hi there" and "the next guest in line." 

Be thoughtful about the imagery you use.

  For example, words like "black," "dark," and "blind" are often used symbolically to express negative concepts. However, these terms can be offensive to some groups and should be avoided. There are many alternatives and ways to diversify our use of certain symbolism.

Clarify if you aren't sure. As coworkers and customers get to know you better, they may choose to share aspects of their personal identity with you. Most people are happy to walk you through the language that makes them feel properly respected. Clarify with them if you're not sure. As you get to know others and feel comfortable with them, share your self-descriptors and pronouns. They are likely to share theirs with you too.
Using inclusive language will help ensure that your interactions are sincere and friendly, both in person, by email, and on phone calls. Remember that digital communication can sometimes feel impersonal to guests, so you'll want to personalize your messages by using language that is professional but friendly. 
Additionally, as a point of disability inclusion, we recommend you ask job candidates and guests about necessary accommodations early in your interaction. For instance, when speaking with a guest on the phone, you might say something like "Thank you for your reservation. We're excited to see you on Friday night. In the meantime, please let us know if you require any assistance or accommodations, and we will be happy to provide them." 
At the top of your job applications and your Careers web page, consider including this phrase: "Applicants with disabilities are encouraged to request any accommodations needed to comfortably navigate this application, our workplace, and our digital assets." Statements like these let people know you are prepared and willing to provide the accommodations they need to do great work and feel welcome.
For additional recommendations and industry-specific guidance, read The Inclusive Language Handbook: A Guide to Better Communication and Transformational Leadership by Jackie Ferguson and Roxanne Bellamy.



Katie Gaebel, Ph.D., is the Director of People and Culture at The Diversity Movement. She has spent more than 12 years in career development and learning spaces and has extensive background in higher education and nonprofit work. Connect with her on Linkedin.