Donald Thompson Receives National Recognition from the INDEPENDENT PRESS AWARD®
RALEIGH, March 20, 2023 – Donald Thompson, chief executive officer and co-founder of The Diversity Movement, wrote Underestimated: A CEO's Unlikely Path to Success to share his leadership and life journey with others who might face an uphill path in a world determined to define success for them. Through resiliency and determination, Thompson believes everyone should work hard to find their place and fulfill their dreams. 
In recognition of the book's overall excellence in writing style, cover design, and content, the Independent Press Award recognized Underestimated as a Distinguished Favorite in the Leadership category.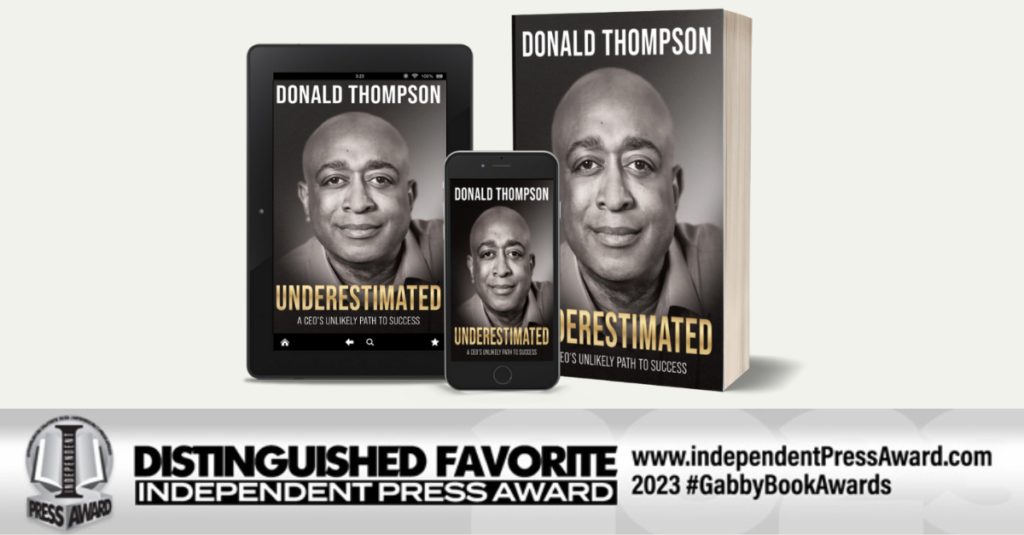 "Independent publishing is pushing on every corner of the earth with great content," said Gabrielle Olczak, awards sponsor. "We are thrilled to be highlighting key titles representing global independent publishing." 
Commenting on the power and promise of Underestimated for today's readers, Jamie Merisotis, president and CEO of the Lumina Foundation said, "In a time of rising pessimism about life, work, and our fracturing societies, Donald Thompson offers a personal, powerful reflection on believing in oneself and securing a just future in which diversity makes us stronger and more united."
The Independent Press Awards include authors and publishers from around the world, including Australia, Canada, Germany, India, Japan, Norway, Scotland, and South Africa. Books submitted drew from the work of writers based in cities from Atlanta to Los Angeles; London to Nova Scotia; from Cape Town to Mumbai; from Albuquerque to New York City, as well as others.
"Underestimated was written for people searching for inspiration as they chart their own unique paths toward success," said Thompson. "I drew on my story and family's history to give readers an unflinching picture of how they can overcome adversity and doubts to reach heights they never imagined." 
For more information or to see the complete list of IPA Winners and Distinguished Favorites please visit independentpressaward.com.
Book Details
Morgan James Publishing

ISBN: 978-1631958953

Paperback: $18.95
About the INDEPENDENT PRESS AWARD
In 2023, the INDEPENDENT PRESS AWARD had entries from around the world. The annual book competition is judged by experts from different aspects of the book industry, including publishers, writers, editors, book cover designers, and professional copywriters. Selected IPA Award Winners and Distinguished Favorites are based on overall excellence.
About The Diversity Movement
The Diversity Movement enables organizations to build and strengthen culture by tying real-world business outcomes to diversity, equity, and inclusion (DEI) initiatives via a scalable subscription-based employee experience platform. TDM's integrated approach creates inclusive culture through the application of data-informed insight, technology, and DEI expertise. The platform offers end-to-end education, from front-line employees to a leadership assessment tool that measures cultural competency in executive team building. TDM offers DEI Navigator for organizations who want to scale culture company wide, as well as 400 original, digital learning lessons; 650+ award-winning micro-learning videos delivered in a "Netflix for DEI experience;" and analytics to track culture-building progress. TDM powers scalable and sustainable workplace excellence via a data-driven approach focused on results. For more information and resources, visit www.thediversitymovement.com.
To learn more about Thompson at donaldthompson.com or follow him on LinkedIn.
Contact
Bob Batchelor, The Diversity Movement, bob@thediversitymovement.com