For professionals who are committed to DEI and want to unlock workplace excellence, effective and inclusive communication isn't a 'soft skill.' It's a power skill.
Improve your daily impact with skill-based training that will help you be a more inclusive, productive, and successful leader – today, tomorrow, and throughout your career. Whether you need help with media or presentation training, lessons in inclusive interpersonal communication, or a workshop on executive presence, The Diversity Movement has the experience and expertise to help you hone your written and spoken communication skills. 
Learn More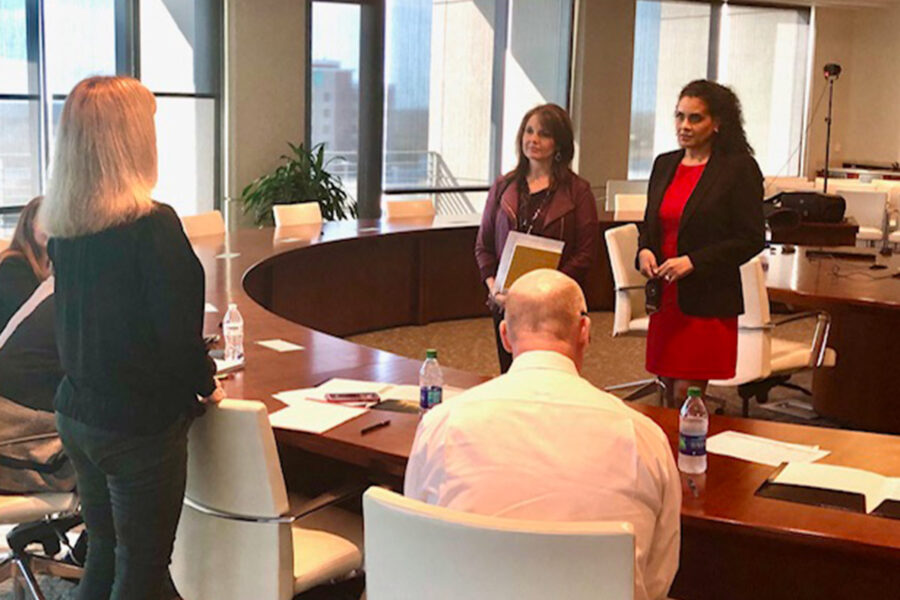 Meet Melanie Sanders, CDE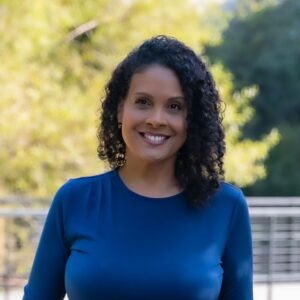 In response to growing demand for better communication training and DEI-centered, inclusive work spaces, our professional development curriculum emphasizes the importance of inclusion, professionalism, and authenticity.
Led by the Emmy-nominated journalist and award-winning multimedia producer, Melanie Sanders, CDE, our team of corporate communications experts will show you how to present your best self, whether on camera, when public speaking, or in day-to-day workplace communications.
Workplace Communication
For any organization to be successful, effective and inclusive communication must be at the heart of team building, customer service, conflict management, and more. With the right strategies and daily practices in place, you can establish a workplace culture in which employees communicate with clarity and respect to work effectively and efficiently in their teams. This course teaches the necessary skills for impactful, intentional workplace communication, like active listening; communicating clearly to avoid confusion; using appropriate, positive body language; and keeping your composure in every situation. Our 'Communicating in the Workplace' training module concentrates on methods to advance those vital skills in order to improve and maintain a healthy culture that unlocks workplace excellence for teams, individuals, and organizations.
Media Training
Media can be a powerful partner in promoting your message and brand, so you want to be prepared when they call. To be an effective interviewee and avoid potential mistakes, you need to understand how media works and how to be a clear, concise, authentic, and inclusive communicator. In this training, you will learn best practices for inclusive and effective communication from one of your Certified Diversity Executives and experts. Whether you're preparing for time with the Wall Street Journal, CNBC, Businessweek, or the local media, we'll help prepare you for every opportunity to showcase both yourself and your organization. This foundational training offers realistic, on-camera interviews with immediate feedback on presentation details, message development, rules of engagement, the interviewee's Bill of Rights, and crisis communication training.
Public Speaking & Presentations
It takes only one second for your audience to make unconscious biases about your body language, physical appearance, vocal delivery, and emessage. Perhaps that's why glossophobia, or fear of public speaking, affects nearly 75% of the population. To help you reach your highest potential, we offer group and individual workshops that teach you how to deliver your message powerfully, professionally, and with cultural competency in mind. Facilitated by one of our certified diversity experts, what makes our training so effective is that you'll see yourself on camera and in action, learn to understand your strengths and skill gaps, then immediately put your learning into practice as you become an authentic and confident presenter.
Each workshop includes actionable lessons on:
• Defining the purpose of your presentation
• Analyzing who your audience is, the logistics of your presentation, and preparation
• Message development and speech writing
• Best practices for accessibility and inclusive language
• Vocal performance
• Body language and nonverbal communication
• Image consultation
• On-camera mock presentations
• Virtual training options
On-Camera Training
Discover the techniques professionals use to make communicating on video look easy. Here, you'll learn the proven secrets to being effective and relaxed in front of the camera with skill-building lessons on message development, body language, and vocal delivery. Let our Certified Diversity Executives show you how to incorporate inclusive language and communication best practices to help formulate your message on camera. This course also gives you multiple on-camera sessions, with consultations on wardrobe, hair, makeup, and overall appearance for consistent on-camera success.
Executive Presence
For many professionals, career advancement depends on aligning your internal and external self-awareness. Do you have executive presence? How do you define it, and how do you develop it? These are factors that future-ready leaders must consider for optimal impact. This course incorporates DEI best practices including inclusive language and accessibility. How do others already view you? And does their vision align with how you view yourself? Becoming more culturally competent will make you a more confident leader.
Our Executive Presence coaching includes:
• Learning how to demonstrate confidence and earn trust and respect
• Best practices for inclusive language and accessibility
• Knowing how to exude positive energy when needed
• Targeting your body language and determining how to get results
• Identifying your current body language profile
• Understanding the impact of your personal appearance
• Identifying image derailers, plus words and phrases to avoid
• Practicing being a confident leader, even when you have self-doubts
• Planning your positive self talk and your power poses
I had worked with Melanie on presentation training for my team, so when I was invited to moderate a panel discussion at an event for the first time, I knew she was the perfect person to help me prepare. Melanie and I worked on how to brief panelists, talking points, presence, authenticity, inclusive language, and how to be the connection between the panelists and the audience. She gave me everything I needed to feel confident going into the event and to successfully moderate a panel for the first time. Melanie is an excellent teacher and coach, and I look forward to working with her more in the future.

Alison Brown

Sr. Director, Global Corporate Communications, Merz Aesthetics
We are grateful for Habitat Wake's partnership with The Diversity Movement. For nearly half a century, Habitat for Humanity has sought to combat racial disparities in homeownership - the most significant factor in our country's racial wealth gap. Just as we tell our volunteers that a strong house must stand on a strong foundation, we knew it was wise to invest in ourselves with the most modern methods promoting diversity, equity, inclusion and accessibility. TDM was the answer. Thanks to Melanie's expertise and thoughtful approach to training our senior leadership, we can better serve our colleagues, partner families and community.

Sean Maroney

Vice President of Resource Development, Habitat for Humanity of Wake County
Thank you for an outstanding [Workplace Communications] training session with Abrigo last week. The content was incredibly timely and relevant for our organization. The feedback has been overwhelmingly positive. Thank you for noting the how communication impacts business outcomes – we have folks that are keenly interested in how this work drives the business forward, so that was great.

Anna Kurac

Senior Director, HR, Abrigo
Get Started
Interested in learning more about how our team can help?
Fill out the form to get in touch with us.
"*" indicates required fields