ACCESS Entrepreneurship Program leads to investment, mentoring, and networking for underrepresented founders
RALEIGH and ATLANTA, December 7, 2022 – The Diversity Movement (TDM) has received an investment through the TiE Atlanta ACCESS program, a program that creates inroads for underrepresented founders throughout the Southeast.  
Launched in 2020, TiE Atlanta's ACCESS program creates inroads for underrepresented founders throughout the Southeast and internationally, based on TiE Global's worldwide reach. The program aims to aid leaders and emerging businesses who have been historically kept from investment and venture capital avenues, as well provide the mentorship opportunities essential for long-term success.
Part of the 2022 ACCESS program, TDM was one of six companies selected from a pool of 43. The leadership team received access to weekly mentoring sessions on pitch, product-market-fit, and finances; a local and global network through TiE Atlanta and TiE Global; and introductions to potential customers and partners for long-term growth.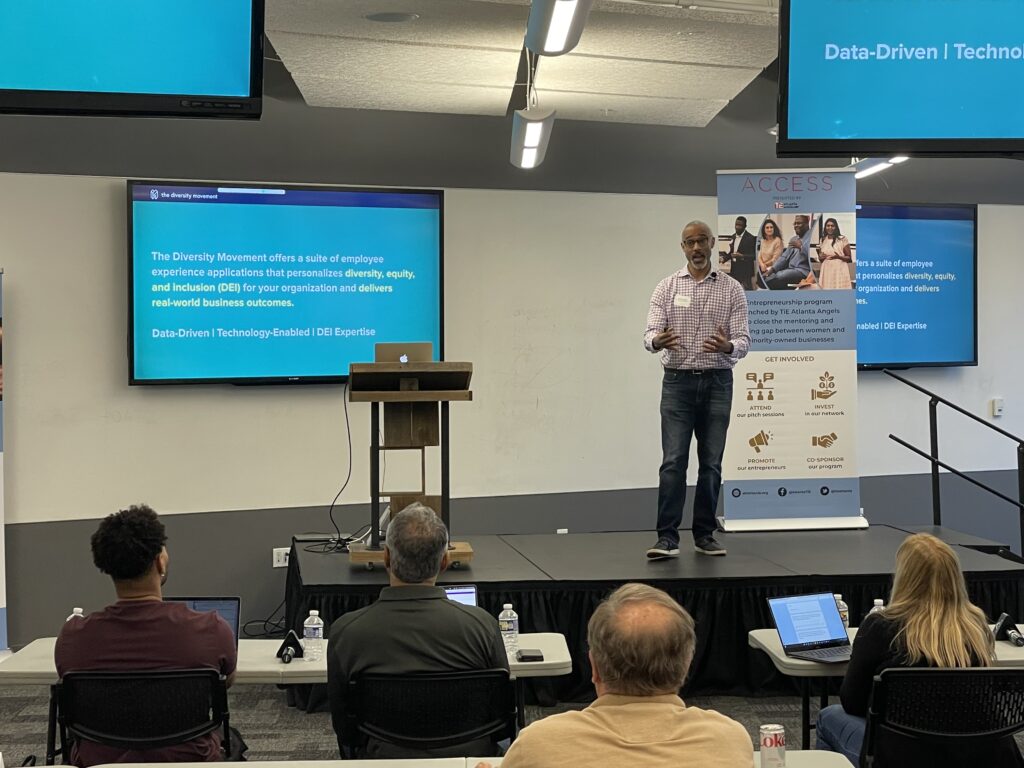 The Diversity Movement's success at the ACCESS Investor Showcase made it eligible for investment from TiE Atlanta Angels, which leads the mini-fund for ACCESS. The company was noted for the strength of its platform, vision, traction, and the quality of its management team.
"With the right access to mentors, corporate partners, and all-around network, startups can really thrive. Kurt and Donald really dedicated themselves to take advantage of the resources ACCESS had to offer and that's the ultimate result in their success in the program. We are excited to invest in The Diversity Movement and look forward to their growth and continued participation with TiE Atlanta," said Paul Lopez, ACCESS Co-Chair.
"The investment from the TiE ACCESS program will help The Diversity Movement fuel growth of its workplace learning platform, said Donald Thompson, chief executive officer at The Diversity Movement. "The company benefited from the mentoring and coaching we received throughout the process, which helped us further redefine and broaden our mission to make the world a better place through DEI programming and initiatives." 
TDM's subscription-based workplace learning platform includes DEI Navigator. DEI Navigator is a subscription-based membership platform that provides resources needed to create, strengthen, or expand culture, including content, tools, analytics, and on-demand guidance. Membership provides access to The Diversity Movement's award-winning micro-learning library. 
The micro-learning platform contains 600+ right-sized videos of curated content, how-to guides, specialized training, and a community of peers sharing their ideas and lessons learned. Equivalent of 28 full-length Hollywood films, MicroVideos by The Diversity Movement was recognized as one of Fast Company's 2022 World Changing Ideas, an exclusive list of global organizations changing the world for the better. 
"The Diversity Movement's workplace learning suite speeds adoption of culture initiatives, which have been proven to immediately benefit the bottom line," said Kurt Merriweather, vice president of innovation at The Diversity Movement. "Whether an organization needs to improve retention and expand its talent pipeline or create an internal infrastructure for its diversity leader, our platform allows the culture-centric leader to quickly scale knowledge and see real-world financial results." 
About The Diversity Movement
The Diversity Movement (TDM) enables organizations to build and strengthen culture by tying real-world business outcomes to diversity, equity, and inclusion (DEI) initiatives via a scalable subscription-based employee experience platform. Our integrated approach enables organizations to build inclusive culture through the application of data-informed insight, technology, and DEI expertise. Our platform is powered by 400 original, digital learning lessons, 600+ micro-learning videos delivered in a "Netflix for DEI experience," and analytics to track culture-building progress. We power scalable and sustainable workplace excellence via a data-driven approach focused on business results. For more information, visit www.thediversitymovement.com.
About TiE Atlanta
Founded in 1998, TiE Atlanta is one of the Top 5 TiE chapters in the world.  TiE Atlanta fosters entrepreneurs in all industries, from ideation to exit, by providing access to funding, educational programming, and mentoring by local and global leaders. TiE Atlanta sits on the foundation of TiE Global, the largest entrepreneurial organization in the world. There are currently 15,000 members, including more than 2,500 charter members in 58 chapters across 12 countries. For more information, visit www.atlanta.tie.org.
Contact
Bob Batchelor, The Diversity Movement, bob@thediversitymovement.com
Devika Rao, TiE Atlanta Media Lead, devika@oneillcommunications.com