(Note: A version of this article appears in the September issue of Cary Magazine and at carymagazine.com, where Jackie was named a 2022 Women of Western Wake Honoree.)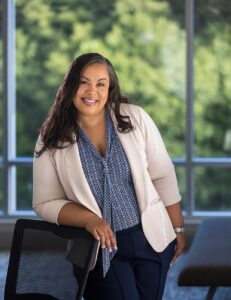 It was 3 a.m. on June 11, 2020, and Jackie Ferguson was wide awake. In just a few hours she would be leading a virtual interactive presentation for more than 300 people attending the North Carolina Chamber's Diversity and Inclusion Conference. It was her first speaking engagement, and she was terrified.
But she could have relaxed and gone back to bed, because everything in her life so far had prepared her for that moment. In addition to decades of advocating for equality and inclusion, Jackie had an innate appreciation for diversity, backed up by countless hours of hard work and preparation.
"I questioned, why do people want to hear from me? I did that for a really long time," says Jackie, co-founder and head of content and programming at The Diversity Movement (TDM). 
"Now, after more than 100 speaking engagements, not only am I confident that I have something valuable to contribute, I am focused on how what I do impacts people, businesses and communities every day."
Accepting challenges
Jackie grew up in Dutchess County, New York, the daughter of a White father and a Black mother. She remembers vibrant discussions around the dinner table between her parents, her siblings, and her Southern-born grandparents, who were an integral part of the multigenerational household. 
Those conversations, coming from many points of view, gave Jackie an appreciation for diverse opinions and cultivated her ability to ask and respond calmly to tough questions. She drew on that last skill during her first meeting with Donald Thompson, co-founder and CEO of TDM.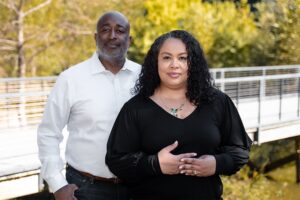 In 2010, Jackie was looking for a new job, and she interviewed for an executive support position with Donald, then CEO of the technology firm I-Cubed. 
"When he offered some 'constructive feedback' on a successful marketing plan I shared, I was pretty irked, though I didn't show it. That campaign made the company quite a bit of money," Jackie says.
"I almost ended the interview. But the more I thought about it, I said, 'This guy has a standard I've never seen before. If I can work for him, I can do anything.'"
Impressed by Jackie's professionalism and her "firm and gracious demeanor," Donald made her an offer, and she accepted.
"I loved that job, even though it was the hardest job I ever did until this job," she says. "I love a challenge, and I find a lot of my personal values are wrapped up in what I do professionally – my desire to be exceptional in my work."
Working for exceptionalism
Nearly a decade after that first meeting, Jackie and Donald were working together at Walk West, when he decided to add a course on diversity, equity, and inclusion (DEI) to the marketing agency's suite of professional development products. Coming on the heels of several tone-deaf and offensive mainstream ad campaigns, the online learning course would create the awareness and understanding needed to create business success in diverse workplaces and marketplaces. Jackie immediately volunteered to write the material.
"We knew the benefits of having a diverse team where those voices also matter," she says of her Walk West team.
The project drew on Jackie's foundational expertise in writing, research, and marketing, as well as her longstanding interest in diversity and equity. Her deep dive into the subject matter included getting her certification as a Certified Diversity Executive, so she could create learning journeys and advise business leaders with confidence. 
"Jackie committed to thousands of hours of research to make an evaluation of other courses that were out there and make sure ours was better," Donald says. "She talked with 50-plus companies to get feedback and parsed through all of that to consolidate that knowledge and learning into something that gave us a world-class product." 
"Writing that course was challenging, and it was scary," Jackie says. "I was doing a lot of things at once, but I'm really proud of what I was able to accomplish."
The course, "Diversity: Beyond the Checkbox," resonated with business leaders and companies, and Jackie was thrust into the spotlight. That focus became brighter as demand for DEI education soared in summer 2020. Companies started asking, "What's next?"

Creating insightful content
The Diversity Movement was what came next. The company has continued to produce innovative content and products including MicroVideos by The Diversity Movement, named one of Fast Company's 2022 World Changing Ideas, and DEI Navigator, a membership service that offers DEI solutions for small and midsize businesses.
Jackie continues to create effective content, such as "The Inclusive Language Handbook: A Guide to Better Communication and Transformational Leadership," which she co-authored with Roxanne Bellamy. The book was created to help executives, managers, frontline professionals, educators, and others make inclusive language a priority. 
"My hope is that in a small way, I can effect change so that the next generation can work, live and love in a more inclusive, equitable world," she says of her work at TDM.
In addition to her duties at the growing company, Jackie also hosts the "Diversity: Beyond the Checkbox" podcast, interviewing global leaders, authors, and pop culture trendsetters who share their inspiring stories and insights on business, inclusion, and personal development. Now in its sixth season, the podcast is ranked in the top 5 percent of most downloaded podcasts worldwide.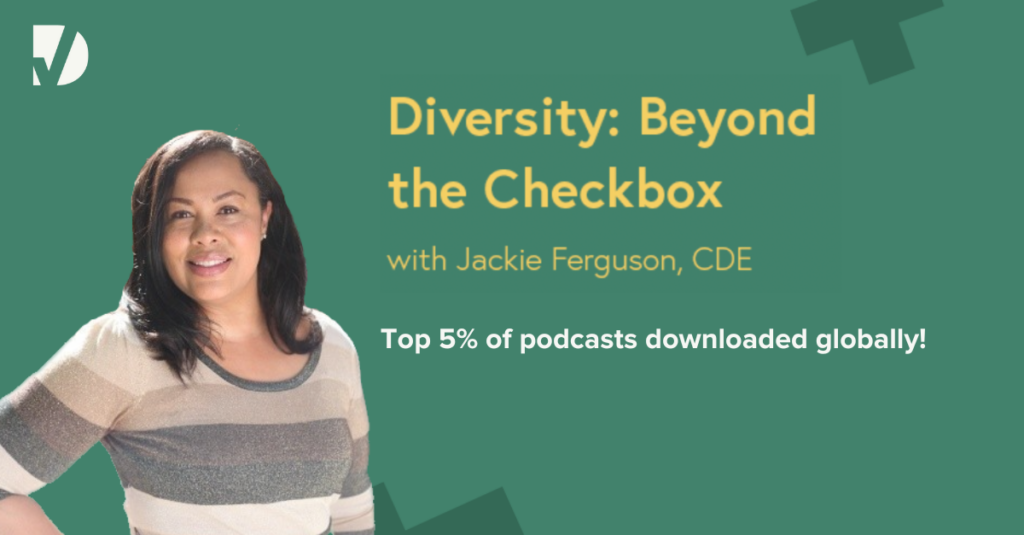 The success of the show is largely due to Jackie's rigorous preparation, her willingness to ask tough questions, and her comfort with challenging conversations.
"She's so gentle, and also inquisitive and direct at the same time," said Kaela Sosa, TDM's curriculum and programming manager who helps screen podcast guests. "There's this sort of aura about her. When you're having a conversation about difficult topics, even if you don't agree, you want to open up and you want to share."
Jackie admits hosting the podcast was scary in the beginning, but like every other milestone in her career, accepting the challenge has been worth it. Her professional focus has been fueled by a desire to provide for and be a role model for her daughter, Diana.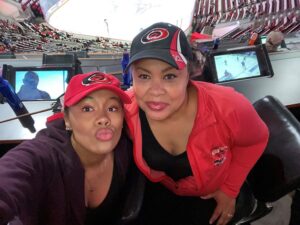 "I wanted to step out from the shadows, because of the example that I wanted to set for my daughter," Jackie says. "And that's to not be afraid, to believe in yourself, and to believe that you can do something more than even you think you can in the moment."

Amber Keister is a Content Writer and Editor at The Diversity Movement. She has spent more than 20 years as a journalist for publications throughout the South. Connect with her on Linkedin.