Our Certified Diversity Executive (CDE®) course is a 2-week training program that challenges conventional diversity, equity, and inclusion work and reinforces the need for organizations to lead DEI initiatives from the top. We'll provide you with the tools, education and mentorship to foster a diverse and inclusive environment.
Through 24 course hours of instructor-led training, passing a written exam with a score of 80% or higher, and submitting a professional candidate project, you'll receive a diversity certification. showing your commitment to organizational change. Examples of candidate projects include an assessment of your organization's and a competitor's current diversity efforts, a research project that would contribute to the body of knowledge in the field, or any other usable project that is relevant to your professional work.
The investment in the CDE training is $3000 which includes the course hours and exam fee.
Next Session: December 2021
This training will be held virtually on December 1, 2, 8 & 9. Each class is held from 10am-5pm ET with breaks throughout and a one hour break for lunch.
Register Now
Space is limited
You may also be interested in our Certified Diversity Professional (CDP®) program.
Unsure which diversity certificate program is the right fit for you? Compare the programs.
Refund Information
We are proud to be the exclusive provider in North Carolina of the Certified Diversity Executive credential, which is offered in partnership with The Institute for Diversity Certification (IDC).
learning outcomes
Gain the skills needed to remove systemic barriers to inclusion, lead culture change, and transform company culture

Build a network of peers for ongoing support on your DEI journey 

Demonstrate cultural competence and increase credibility as a diversity, equity, and inclusion change agent

Indicate the highest standard of ethics and competence in generating transformative business outcomes
curriculum
The CDE certification course covers the following topics:
• Personal Awareness & Managing Blind Spots
• Improving Your Approach to the Bottom Line
• Global Best Practices
• The Elements of Leading a Large-Scale D&I Effort
• Race, Power and Privilege
• Boardroom Diversity
• Supplier Diversity
• Innovation Through D&I
• Impediments to Inclusion & Cultural Competence
• Unconscious Bias
• Executive Commitment & Sponsorship
• Strategic Purpose & Partnerships
• Connecting Demographic Shifts to Organizational Strategy
• Integrating Cultures Amidst Merger & Acquisition Activity
• The Next Generation of Equity, Diversity & Inclusion Work
• Advanced Data Insight and Analysis
faculty
At The Diversity Movement we support leading executives, just like you, as we all work to build a more diverse, equitable, and inclusive world.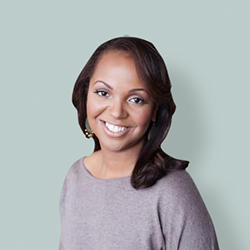 Florence Holland, EdD – Lead Instructor
Florence is a visionary leader and bridge-builder with more than 15 years of strategic planning and hands-on expertise. She has a well-rounded academic background, with practical knowledge of and experience in change management and diversification. Florence has extensive education experience working with secondary and post-secondary students. She works with businesses to lead strategic planning around talent development and DEI.
Subject-matter expert instructors include Donald Thompson, Jackie Ferguson, Kurt Merriweather, Kaela Kovach-Galton, Shelley Willingham, Sharon Delaney-McCloud, and more.
The CDE is time well spent for any leader who wishes to embark to truly impact their organization with elements of diversity, equity, and inclusion. This certification clearly demonstrates the value of weaving DE&I into one's business model in practical ways. It also allows you as a leader to self-reflect and have better self-awareness.

Rekha Daniel-Kimani

Division Director, Diversity, Equity & Inclusion, BAYADA Home Health Care
This course had valuable knowledge to apply to DE&I efforts to have a lasting impact on organizations. I feel more confident in having discussions with others and the benefits of DE&I work within an organization. Thanks to The Diversity Movement!

Tameka Davis

Diversity Director, Raleigh Metro SHRM
Extremely comprehensive and very enlightening. Excellent program with great content.

John Murphy

Executive Coach